When a native dish in one country is brought to another country, can the bringer claim it as a trademark?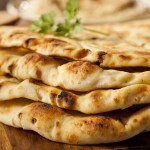 This is the main issue in a lawsuit brought by one company that opened in 2002 against another that opened in 2014 in the same neighborhood with similar offerings. The primary one is the kati roll, a treat typically found on the streets of India, which is basically an Indian flatbread filled with meat, cheese, vegetables and egg. The plaintiff claims that the defendant had unfairly appropriated her trademark colors, recipes, and layout, including hiring former employees, to mislead customers into thinking they were one and the same company.
The defendant claims that the kati roll is common in India and similarities in taste and presentation would be inevitable, as well as many of the traditional flavor combinations and accompaniments. They further denied that the former employees were in any way instrumental in influencing the décor, layout and uniform of the new restaurant. None are in management positions and were hired after the restaurant had already been set up.
The case was brought before the Manhattan Federal District Court, and presiding judge Shira Scheindlin allowed the lawsuit to proceed after hearing the arguments from both sides. A trial date has yet to be set.
It would be interesting to see how the case will eventually go. There are many cultures in the US, and there will always be someone who will be the first to introduce their favorite native dish to the public. However, this does not give them the right to appropriate it as their own and prevent others from doing the same thing just because they are losing business, unless the similarities are such that a reasonable person would inevitably confuse one with the other.