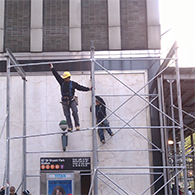 Manhattan's iconic skyline view would not have been possible without the hard work and bravery of construction workers who perform one of the world's most dangerous jobs, high above the ground. Section 240 of the New York State Labor Law, also known as the Scaffold Safety Law, protects those who suffer debilitating injuries on the job. The Scaffold Law applies to height-related construction injuries and holds property owners and general contractors accountable when a worker's accident is caused due to the lack of proper safety protections.
Unfortunately, insurance companies are lobbying hard to eliminate the Scaffold Law and deprive construction workers of a necessary protection. Contrary to the insurance industry's claims, owners and contractors can avoid all liability under the Scaffold Law simply by providing workers with necessary safety precautions. The Scaffold Law is essential in holding contracting firms accountable and ensuring that money-saving corners are not cut at the expense of human life. Thanks to the Scaffold Law, New York had the nation's fifth-lowest construction injury rate.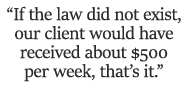 In a recent case, Hach & Rose obtained a thirteen million dollar jury verdict for a worker who fell from a twenty-five foot ladder while he was painting, suffering severe, life-threatening injuries. Unfortunately, the victim did not have a co-worker available to hold his ladder while he was painting, and a safer way to do his job was not provided to him. If not for the protections of the Scaffold Law, the worker would have been limited to the benefits of workers' compensation. Michael Rose, who tried this case, said:
"This case is the perfect example of why the scaffolding law is so important. If the law did not exist, our client would have received about $500 per week, that's it. I don't see how that could possibly be fair for someone who spent one year in a rehabilitation center after brain surgery, learning how to walk, talk, eat, and read all over again. His brain has been permanently injured and he cannot exist on his own. If he had simply been provided with a mechanism to tie off his ladder or had someone available to hold the latter for him, he would still be living a normal life with his family. Thankfully, the protection provided by the Scaffold law allows injured workers to be compensated for their full damages and live their lives with dignity when proper safety precautions are not taken."
Fortunately, because of the accountability provided by the Scaffold Law, the victim was compensated for his past and future lost earnings, past and future medical expenses, loss of pension benefits, loss of annuity benefits, loss of medical insurance, and for his pain and suffering. Although money cannot make up for loss of health, it can allow the victim and his family financial security.