When your parking ticket fine is three times more than what you earn in a day, it is a matter of concern. But is it in violation of the Constitution?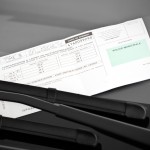 A resident of Los Angeles, Jesus Pimentel, started the class action ball rolling when he received a parking ticket when the meter where his car was parked expired. He is claiming that the $175 fine was excessive, and in violation of the Eighth Amendment of the U.S. Constitution as well as Article 1 Section 17 of the California Constitution. He also alleged that when he failed to pay the fine, he was not allowed to renew the registration on his car and was threatened with impoundment of his car as well as civil litigation. This, Pimentel's lawyer says, is a violation of due process, another hit at the Constitution (Fifth and Fourteenth Amendments).
Pimentel is the lead plaintiff in a class action suit against the city, but his lawsuit is not the only one. Jeff Galfer, another Los Angeles resident who received similar treatment is also petitioning for joiners for a class action suit. In addition to the city's Department of Transportation, Galfer also named Xerox State and Local Solutions, which handles the parking ticketing system for the city. If the court rules for the plaintiffs, it could have significant repercussions in transportation departments all over the U.S.