Air France has filed a lawsuit of reckless endangerment, following its fourth bomb hoax in recent weeks—a flight bound for Paris had a fake bomb that then forced the aircraft to make an emergency landing at Kenya.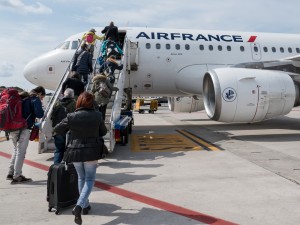 France has been on red alert from potential terrorists, following the attacks during the 13th of November 2015 when an extremist terrorist group staged suicide bombers and shooters at various places in Paris, killing 130 people and causing injury to almost 400 more people. It is due to this that upon seeing the fake bomb – made of cardboard, sheets of paper, and a run of the mill timer (according reports from the Associated Press) – the crew acted immediately and made the emergency landing.
However, this has been the fourth fake bomb since the mass shootings and all areas must be taken into consideration.
Air France spokeswoman, Uli Gendrot, reported that the lawsuit had "no particular perpetrator" in mind but the lawsuit allows for an investigation regarding the faux bombs. Six passengers on board, including the one who tipped them off, were questioned for the hoax.
Nearly 500 people were evacuated from the flight and they were tearfully met by loved ones once again upon landing on Parisian soil.