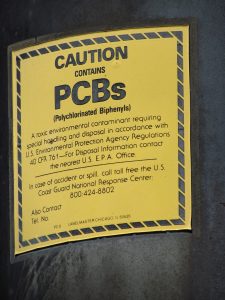 Monsanto has been ordered to pay three plaintiffs $17.5 million in damages and an additional $29 million in punitive damages by a jury in St. Louis after hearing a case alleging negligence in the production and handling of polychlorinated biphenyls, or PCBs. The three plaintiffs in the case all claim that exposure to PCBs caused their non-Hodgkin lymphoma—they are among nearly 100 other plaintiffs making the same claim against the company. Sadly, some plaintiffs have died and had to be represented by their surviving relatives.
As of 1935, Monsanto was the foremost manufacturer of PCBs in the United States and only stopped production in 1977, just before Congress then banned the production of PCBs in 1979. The lawsuit claims that Monsanto was aware of the dangers posed by PCBs for decades, but chose to falsely tell members of the public that they were safe. Prior to 1979, PCBs were commonly used in commercial and consumer products, including paint, industrial equipment, and even food packaging.
After the jury made its 10-2 decision on the case, the plaintiffs' attorney, Steven Kherkher, told the St. Louis Dispatch, "This is the future. People don't know that PCBs cause cancer and that PCBs cause cancer and that Monsanto has been suppressing" the evidence.
Kherker later explained to EcoWatch, "The only reason why this victory is rare is because no one has had the money to fight Monsanto," and that his firm, Williams Kherkher, has pooled resources with other law firms to get the case moving.
As he went on to say, "It's not going to be rare anymore." Williams Kherkher now has around 1,000 plaintiffs making claims associated with PCBs.
In response to the increasing number of cases that his firm will be pursuing against the company, Kherkher told EcoWatch, "every judge allows us to acquire more and more information from Monsanto and discover their documents. There is a lot more information out there that has yet to be mined."
Though the former Monsanto Chemical Co. that originally manufactured PCBs is no longer in existence, Monsanto—which now manufactures herbicides and engineers agricultural seeds—is handling the claims. However, three other companies were among the defendants in this case: Solutia, which was a spin off from the old Monsanto Chemical Co.; Pharmacia, which absorbed a portion of the old Monsanto; and Pfizer, which had merged with Pharmacia back in 2003.
Following the verdict made against Monsanto, one of the jurors, Nathan Nevius, told the St. Louis Dispatch, "All of us could pretty much agree that Monsanto was negligent."
Juror Ashley Enochs told the Dispatch, "I think it goes to show that large companies can put stuff out there that's harmful and they can do it for along time but that justice is going to be served whether it's a year after the products are put out, or in this case, 80 years."
In response to the jury's decision on the matter, Monsanto issued a statement that said, "We have deep sympathy for the plaintiffs but we are disappointed by the jury's decision and plan to immediately appeal today's ruling. Previous juries in four straight similar trials rejected similar claims by attorneys that those plaintiffs contracted non-Hodgkin lymphoma as a result of eating food containing PCBs. The evidence simply does not support today's verdict, including the fact that scientists say more than 90 percent of non-Hodgkin lymphoma cases have no known cause."
As of now, the $46.5 million decision against Monsanto marks a departure from prior rejections of claims made against the company for its production and handling of PCBs.